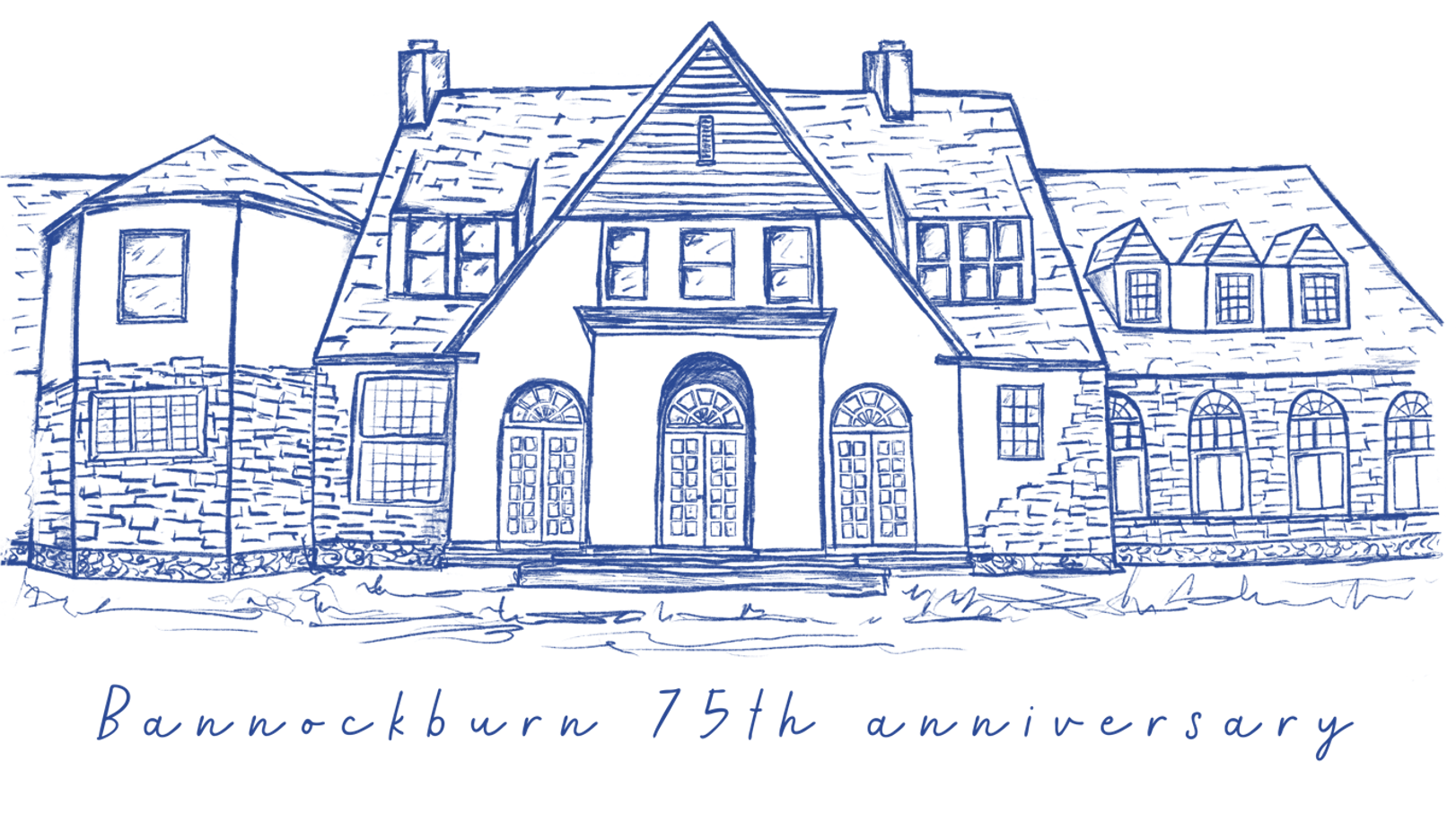 Neighbors & Friends,
With the 75th Anniversary Weekend kicking off in a week, we have so much news to share in this message, including:
Our carefully curated line-up of community-favorite food trucks serving great meals during Music Fest

A special offer to visit the Bannockburn Community Archive at American University on Saturday afternoon

More details about the Friday evening Kickoff Party. We have 150 RSVPs so far which is awesome, but please do RSVP if you haven't yet and send a quick note to your newcomer neighbors that they should join the fun, too!
In case you have trouble tracking down this email later, all the info will be available on the dedicated Anniversary page on our community website for easy reference.
-Your Friendly Bannockburn Community 75th Anniversary Planning Committee


Our indefatigable ringleader Henriette Rahusen continues to corral the legion of volunteers needed to carry off a weekend as big and fun as this one through this volunteer sign-up form. There are opportunities left for all ages, and many hands make light work!
SSL Opportunities: When registering middle- and high-school students in search of SSL opportunities, please make sure the slot in the Sign-Up Genius indicates that kids are invited to sign up.
Anyone with questions about specific opportunities or the sign-up process is invited to contact Henriette directly at henriette.rahusen@gmail.com.

Bake Sale sign-up is open and waiting for you to register to bring your signature sweet for Saturday's most delicious Clubhouse fundraiser, organized by the cleverly creative Michelle Jaconi. It's not just for kids — *everyone* loves to grab dessert from the Bake Sale table during Music Fest! All proceeds support our beloved Clubhouse, and everyone knows indulgences for a good cause bring good karma and don't settle on the hips.
It would be a HUGE help to our Bake Sale organizers if you could let them know soon that you plan to bring something!



Over 150 friends, neighbors, and Bannockburn alumni have said they plan to gather for the Friday night Kickoff Party from 6:30-8:30PM, and we couldn't be more excited!
Community-favorite ensemble Batida Diferente will serenade us with their eclectic instrumental mix of Brazilian, Latin, and American jazz and pop music while we mix and mingle with neighbors old and new. Check out the band's music on your favorite streaming service to get in the mood!
We'll enjoy a great selection of hors d'oeuvres from Praline Bistro & Bakery, including options for our vegetarian and vegan guests. Praline is located in the Sangamore Shopping Center. Its owner, Susan Limb, is President of the Bannockburn Elementary School PTA and known to many of you as a longtime supporter of events that serve our Bannockburn Community. We're thrilled that Praline is able to be part of this special occasion!
If you see neighbors Betsy McIntyre or Bart Hawe milling around the tent on Friday, raise your glass to them for managing all the beverage acquisitions for this event! They've put together a wide assortment of non-alcoholic beverages, beer, and wine, so you're sure to find something you like at the bar.
After the event officially ends at 8:30 PM, feel free to stick around for a showing in the Ballroom of the trailer for the upcoming documentary "Ain't No Back to a Merry-Go-Round." In it, filmmaker Ilana Trachtman presents the story of the desegregation of Glen Echo Park in 1960, including interviews with many Bannockburnians who participated in the effort.
In addition to eating, drinking, and generally being merry, we're gathering to formally welcome our Newcomers since April 2019. If you know someone who's moved in since then (and there are a LOT of someones who have!), please encourage them to attend! Your script might go something like this:
YOU: "Hey, that Friday night cocktail hour is also a make-up for Bannockburn's legendary Newcomers' Dinner tradition that we couldn't have during the pandemic. You should come."
NEWCOMER: "Maybe. We'll see."
YOU: "Normally during Newcomers' Dinner, we make the new neighbors stand up and introduce themselves to the whole community in a charming, comedic, and witty impromptu performance for which we offer literally zero advance warning. But this year, there are so many Newcomers, you'll probably be able to get away with just standing up and waving when they call your street name or something."
NEWCOMER: 😳 "Could you forward me that Evite link? Also the name of a reliable babysitter and directions to the Clubhouse would be great, TYVM!"
Adults only, please. Dress as you like. And please RSVP!


All are invited to the Clubhouse Grounds from 10:00-11:30AM to share stories of Bannockburn's founding and catch up with visiting former residents over coffee and bagels. We are hoping to have Mary Fox Herling's nephew share his recollections of her founding role, and we welcome others who might like to share their memories. This will be a great chance for guests traveling in for the weekend to tour the renovated Clubhouse grounds and tour the neighborhood to see what's changed and what's the same.

We're getting excited for the 12th Annual Bannockburn Music Festival next Saturday, September 24th, starting at 1:00 PM! Coming back together to fill the historic Bannockburn Clubhouse grounds with food, drink, merriment, and GREAT MUSIC after years of just-not-the-same pandemic Lawnapaloozas will feel like a homecoming. We've rented a truly enormous wall-less tent to allow the event to take place outdoors and in a Covid-conscious manner, rain or shine.
All week, we'll be sharing details of the local performers we're privileged to host at this event. Read closely and you may discover that your neighbor, your kid's teacher, or that friend-of-a-friend you've always found interesting at parties is actually a local celebrity!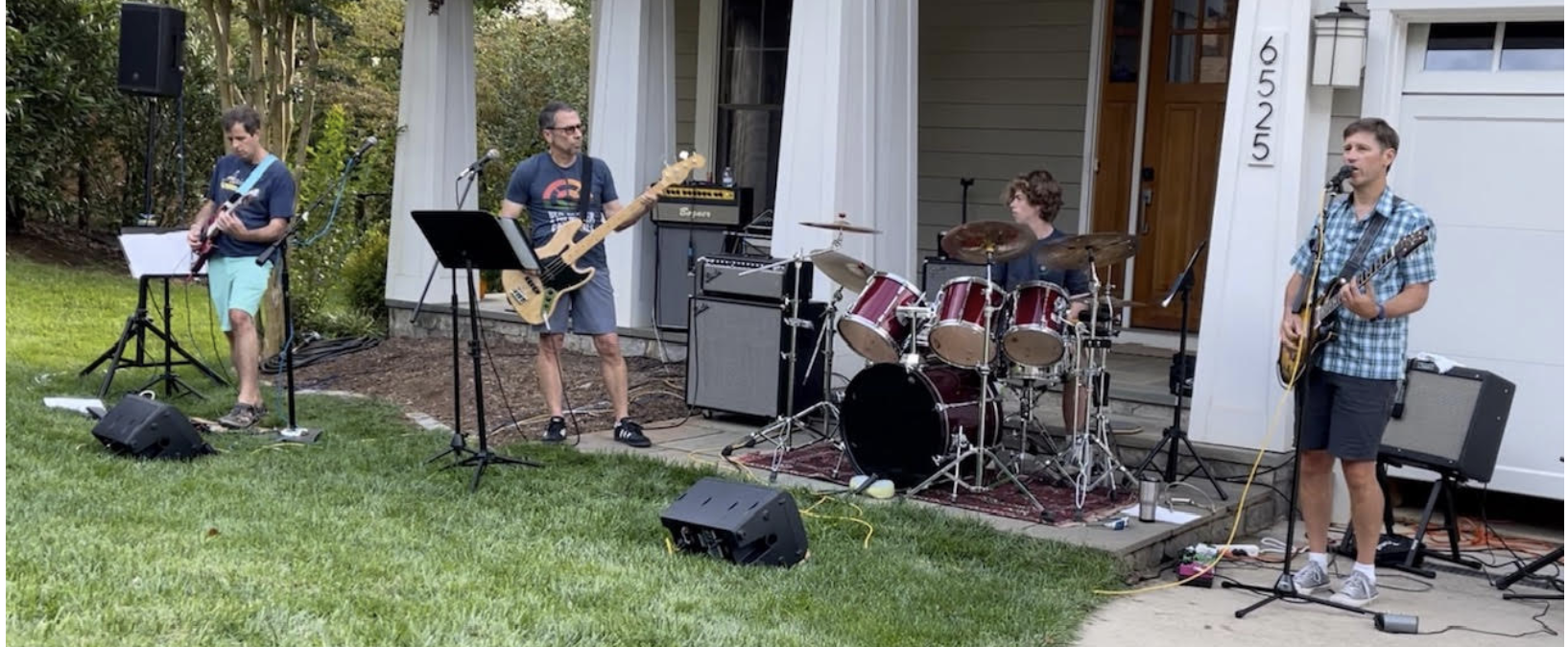 As Cosmic Monsoon, John Wills, Lance Crist, and Bill Thomas, and Pepin Thomas perform rock hits you know by heart. Whether you've seen these guys at Lawnapalooza, the Bannockburn Pool, or elsewhere, you'll find yourself singing along to their stellar renditions of classic rock anthems.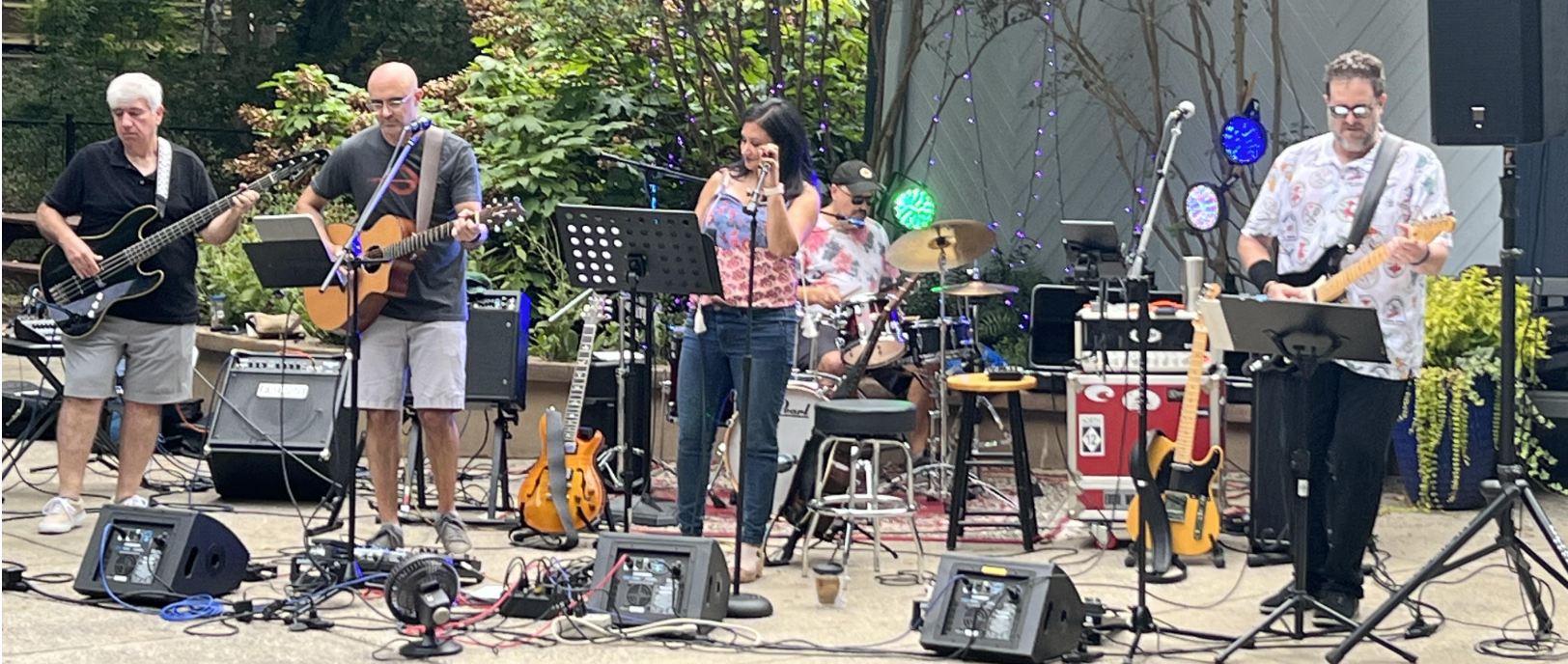 The Local, an up-and-coming MoCo band, featured at the Bannockburn Pool to rave reviews this summer, will be performing Rock & Roots covers. Local musicians Amr Khani, Todd McIntyre, Gianne McNeil, Aaron Zitner and Mitch Joy will play an eclectic mix of rock hits, old favorites, and a few surprise twists.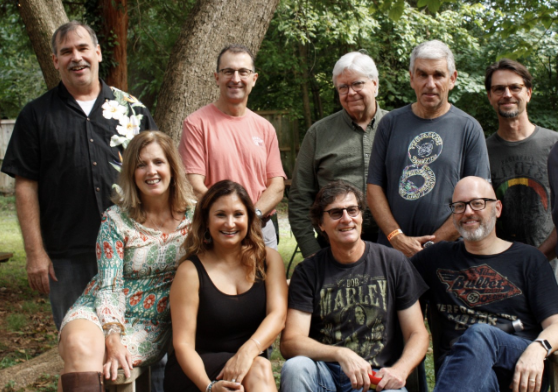 The Cooperators (formerly the Bob Marley Workshop) celebrates the rich legacy of Bob Marley as a musician, political activist, and spiritual leader through its soulful reggae performances. Pamela Toole, Gianne McNeil, Jody Myers, Ed O'Connell, David Levine, Kelly Garton, David Goldberger, Gordon Witkin, Tim Wojan, Rick Elion, and Richard Aitken bring the very spirit of "cooperative community" to the stage with this can't-miss act.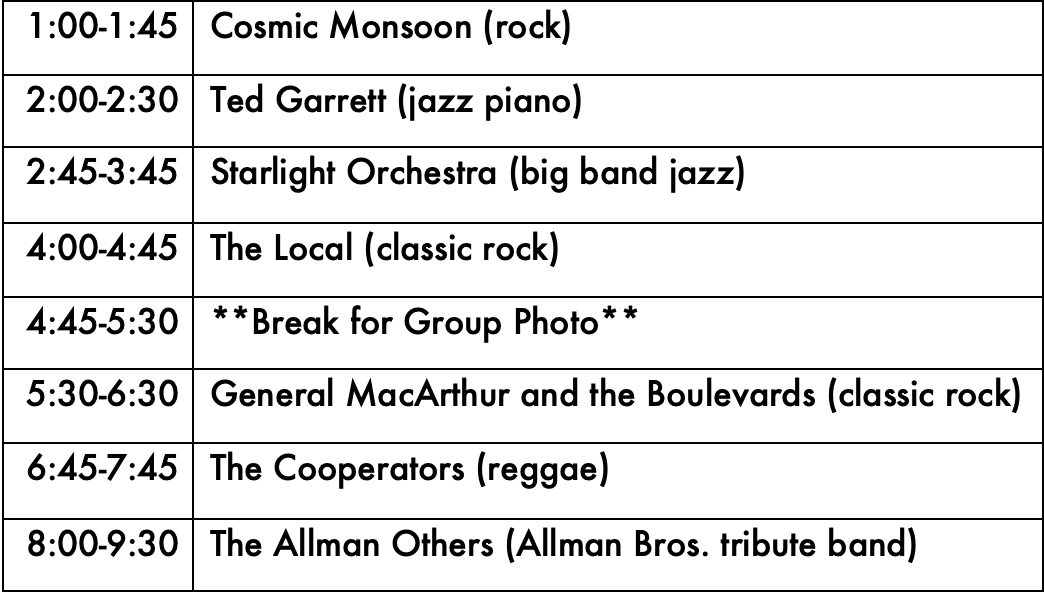 Putting the "festiv" in festival, Chelle Parsky will be delighting young and old with her facepainting skills and Amy Tenney-Curren has organized a variety of kids games and activities to keep little hands and feet busy. Between sets, check out the historical displays in the Clubhouse, catch a bit of last year's Spring Show 66 on the Ballroom television, and strike up a conversation with someone who grew up here (for a good time, ask about the panic that gripped the neighborhood when an arcade opened in the 7-11 shopping center!).

Thanks to steadfast neighborhood food truck supporter Tanya Sisler, we'll have a variety of great food offerings at the Clubhouse during the Music Festival. No pre-orders; order, pay, and pick-up on-site directly with the vendors. If a menu is available online, you will find it by clicking on the name of the vendor below.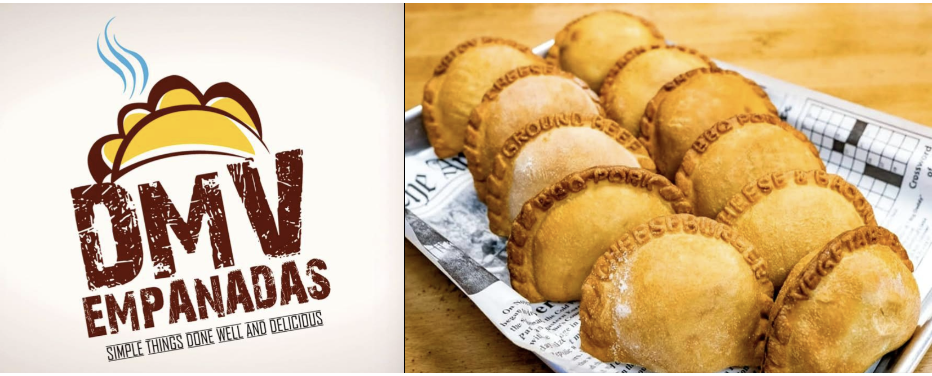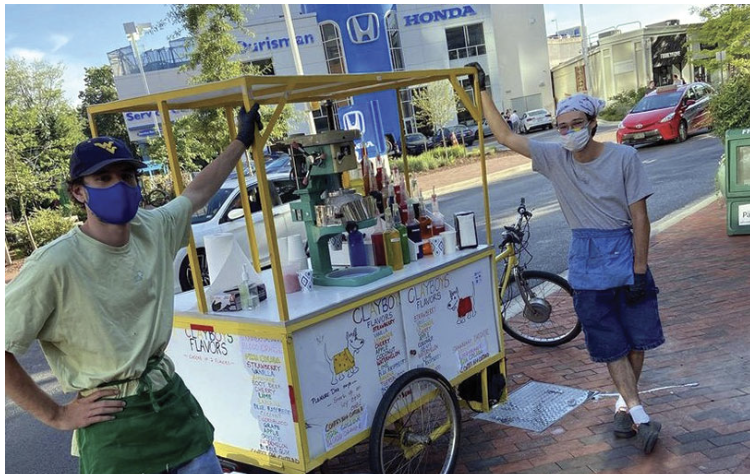 Satisfy your sweet tooth with a treat from our Bake Sale! Cash + Venmo accepted. Gluten- and nut-free options available. Off sugar? There will be delightful floral crowns for purchase, too!
Bakers, we need YOU! Now is your chance to share your signature cookie or brownie or bar with a crowd of appreciative neighbors, and for a good cause! Please sign up and find details here so our Bake Sale organizers know to expect your treat.


Every 5 years, Bannockburn gathers on the rear Clubhouse grounds during the Anniversary weekend for a panoramic photograph. While no photo is big enough to capture the spirit of this special place, it is fun to look back over decades of photos and pick yourself out — first as a preschooler, then your high school self, later holding your own kids. Feeling nostalgic yet? 😉
Set a reminder on your calendar to head to the Clubhouse at 4:30PM for the group photo. Everyone will be there – don't miss it!
If anyone has professional photography equipment and wants to donate the effort of setting up this shot, we'd welcome your help. Email contact-bcc@bannockburncommunity.org.

**ADDED ATTRACTION**
Thanks to the persistent and dedicated David Weisz and Patty Howie, we're thrilled to offer this additional event as part of the 75th Anniversary weekend!
Trace the history of our community from its inception to the present! The Bannockburn Archive will be available for viewing on Saturday, September 24, from 1:00-4:00 PM.
Staff of the American University Archives and Special Collections, who administer the Bannockburn Archive, have kindly offered to open their offices to us. They have also prepared a special exhibit for the occasion. Included are such treasurers as architectural plans of many of the original homes, news articles tracing the growth of Bannockburn, the famously snide letter sent by Frank Lloyd Wright in response to BCI's request for proposed designs for the community, and interviews with some original community members. A complete list of what is available can be found through the Archive's Finding Aid.
AU Archives staff will be available to assist with navigating the materials on display. The AU Archives, located just over the DC line at 4801 Massachusetts Ave. NW, is only a 10-minute drive from Bannockburn. More information and directions will be provided at the Anniversary Breakfast on Saturday morning. If you're interested in viewing the Archive but are unable to attend the Breakfast, please contact David Weisz or Patty Howie for assistance.
After 12 years, Bannockburn's Music Festival has gotten pretty good at designing an event that's fun for the *whole* family, including the little ones. In addition to being an outdoor event with plenty of space to run and play, we have a variety of activities to keep your kids happy.
And as a bonus, our Music Fest tent and stage will be transformed into a performance venue for none other than The Great Zucchini on Sunday morning at 9:30 AM! If you're planning your weekend with preschool and early elementary-aged kids, this is a can't-miss event close to home!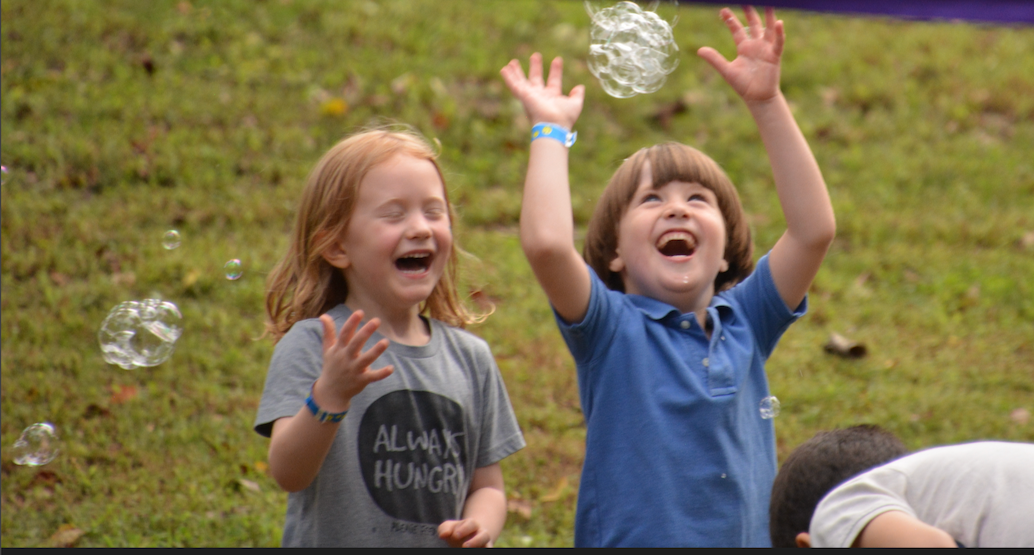 Join us from 1:30 – 6:30 PM on the Clubhouse grounds during Saturday's Music Festival for a variety of activities for kids of all ages, including:

We're still looking for a few more volunteers to help manage the Kids Activities. SSL credit available! Sign up here and be sure to click the "Next" button at the bottom of the screen if you don't see any openings (they're there!).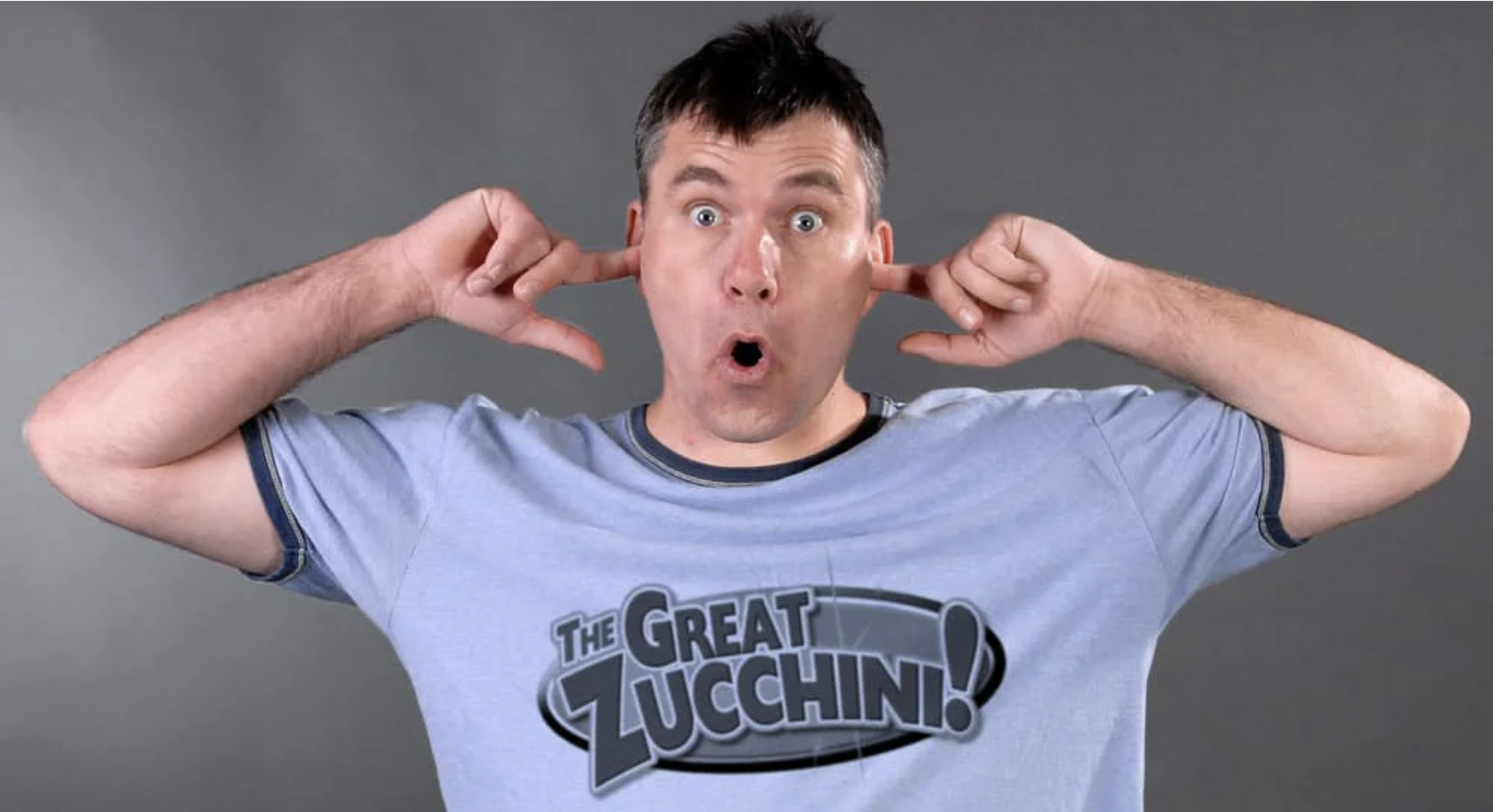 Who doesn't love The Great Zucchini?! Part comedian, part magician, kids can't get enough of his laugh-a-minute act featuring ridiculous props and, of course, volunteers from the audience.

The Great Zucchini will perform under the Big Tent on the Bannockburn Clubhouse grounds at 9:30 AM on Sunday 9/25! 
You may want to bring a blanket or towel for kids who don't like to sit "criss-cross-applesauce" directly on grass. Ample street parking is available near the Clubhouse, as well as in the Bannockburn Swim Club's parking lot a very short walk away.
If your family is in a financial position to do so, we kindly request a donation of $15 per child to the Bannockburn Community Club, a registered 501(c)(3) non-profit, to support our historic Clubhouse and grounds. Donations may be made by cash, check to BCC, or Venmo at the event, and thank you for your support!
P.S. We're hosting Cardio Bootcamp for Adults & Teens at the same time as The Great Zucchini to help you busy parents of young kids get a workout in. Bring water & dress to move!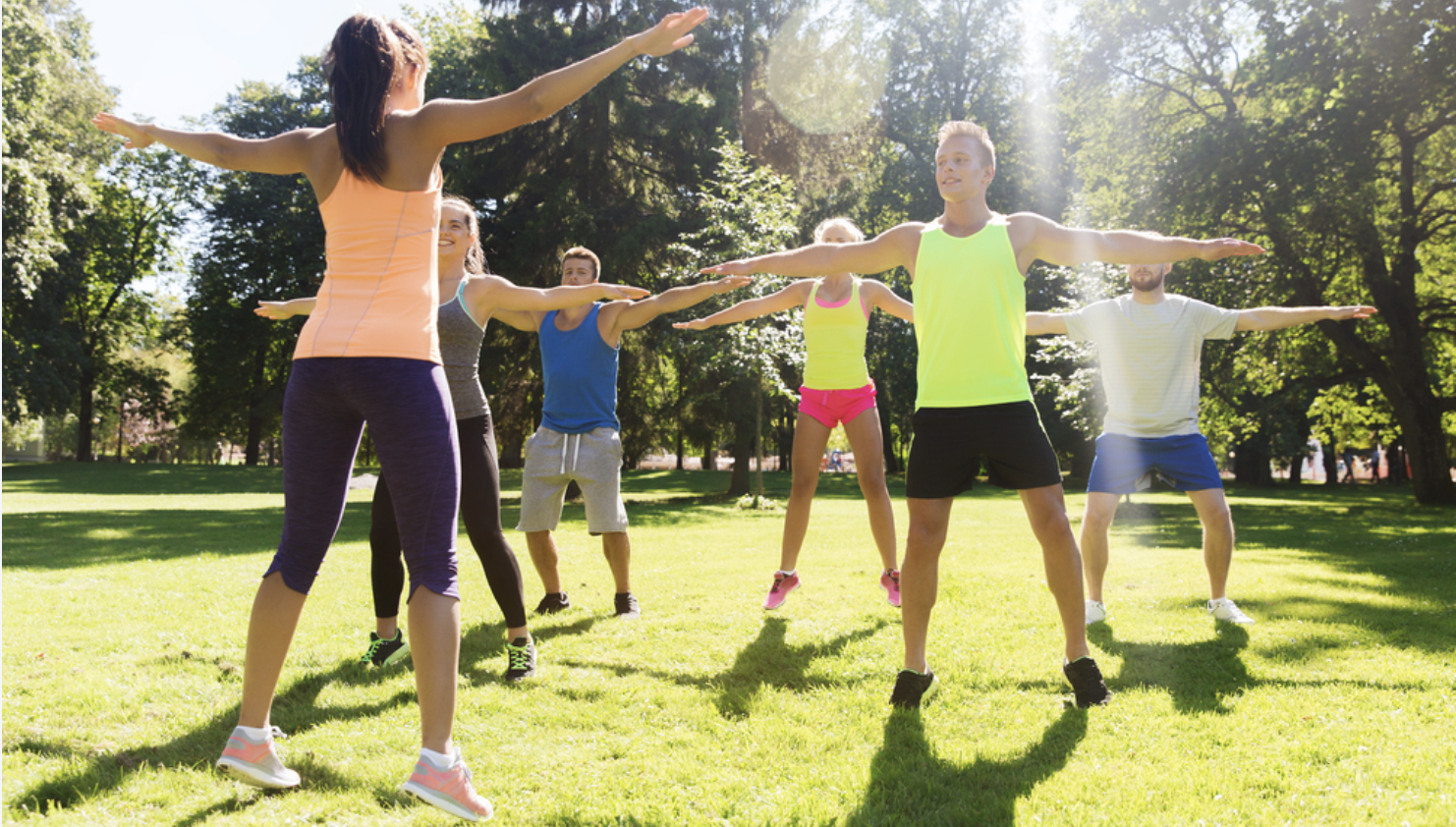 Join third-generation Bannockburnian and personal trainer Nora Mann for a free bootcamp exercise class on the Clubhouse grounds starting at 9:30AM. (Yes, that's right. We scheduled it so you over-worked and under-worked-out parents of young children can send your partner to the Great Zucchini show with the kids and you can get some solid exercise in. We know. We love you, too.)
Teens and adults only; no children, please. Dress to move!